Home > Business Lines > Re-refining
USED LUBE OIL REREFINING - A SUCCESSFUL INVESTMENT
STP is Pioneer on Used Lube Oil Re-refining since 25 years to produce Base oils Group I and II, Marine Distillate Fuels and VGO as suitable feedstock to Refinery Units.
STP has implemented several Re-refining Plants of different capacity worldwide and provide the latest high-tech green Re-refining Process.


Used lube oil re-refining presentation »
Used lube oil is a mixture of different types and grades of used lubricants, various contaminants and degradation products coming from motor crankcases and industry users.
Used Lube Oil is classified as toxic and hazardous waste to be properly disposed according to Waste Framework Directive 2008/98/EC and subject to the following requirements:
Used Lube Oil shall be segregated and collected, not allowed to be dumped.
Used Lube Oil shall be treated in accordance with waste hierarchy and protection of the environment and human health.
Used Lube Oil treatments are established according to the level of contamination
2L OF USED LUBE OIL GIVE 1,5L OF RE-REFINED OIL
Re-refining of used lube oil is an economically attractive recycling method in terms of resources conservation and environment protection. It allows processing of hazardous and toxic material in a safe and effective way to recover a high quality oil product.
Used lube oil can be re-refined as many time as you like and this results in an attractive business opportunity while safeguarding the environment.
Used lube oil is collected at garages, maintenance shops, transportation companies and industries and the quality depends on local situation, seasonal consumption, collection source and organization.
Used lube oil collected is more than 40% of Lubricants consumptions.
LUBE OIL LIFE CYCLE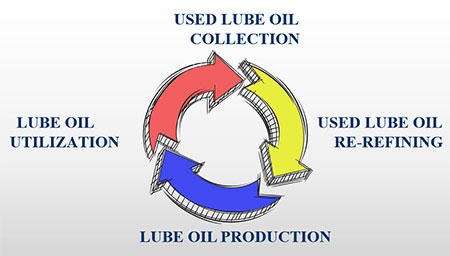 USED LUBE OIL CYCLE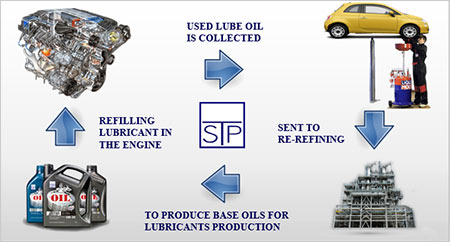 USED LUBE OIL RE-REFINING ADVANTAGES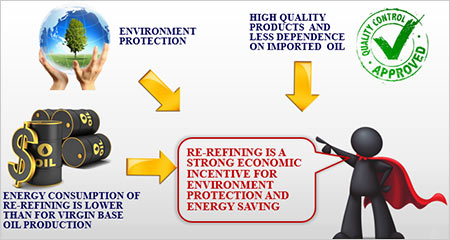 USED LUBE OIL COLLECTION
Collection of used lube oil is the starting point for a succesfull Re-refining.
Re-refining depends on collection effectiveness and used lube oil availability.
Efficient collection facilities are a necessity for Re-refining in relation to:
Availability of used lube oil (quantity)
Composition of used lube oil (quality)
SUCCESS OF RE-REFINING DEPENDS ON THE COLLECTION SYSTEM